Regular price
Sale price
$64.99 CAD
Unit price
per
Sale
Sold out
The Nite Ize RunOff Waterproof Tablet Case revolutionizes waterproof protection. This unique tablet case lets you use your tablet while protecting it from water, dust, and sand.
Description
Protect your tablet with from the elements while keeping it close at hand wherever you go. The Nite Ize RunOff Waterproof Tablet Case features clear, touchscreen friendly material that allows you to take pictures with the tablet's front or back cameras - even underwater! Integrated attachment points and an adjustable lanyard make it easy to carry your tablet in portrait or landscape orientation while keeping your hands free.
Fits tablets up to 7.63" wide and 10.23" tall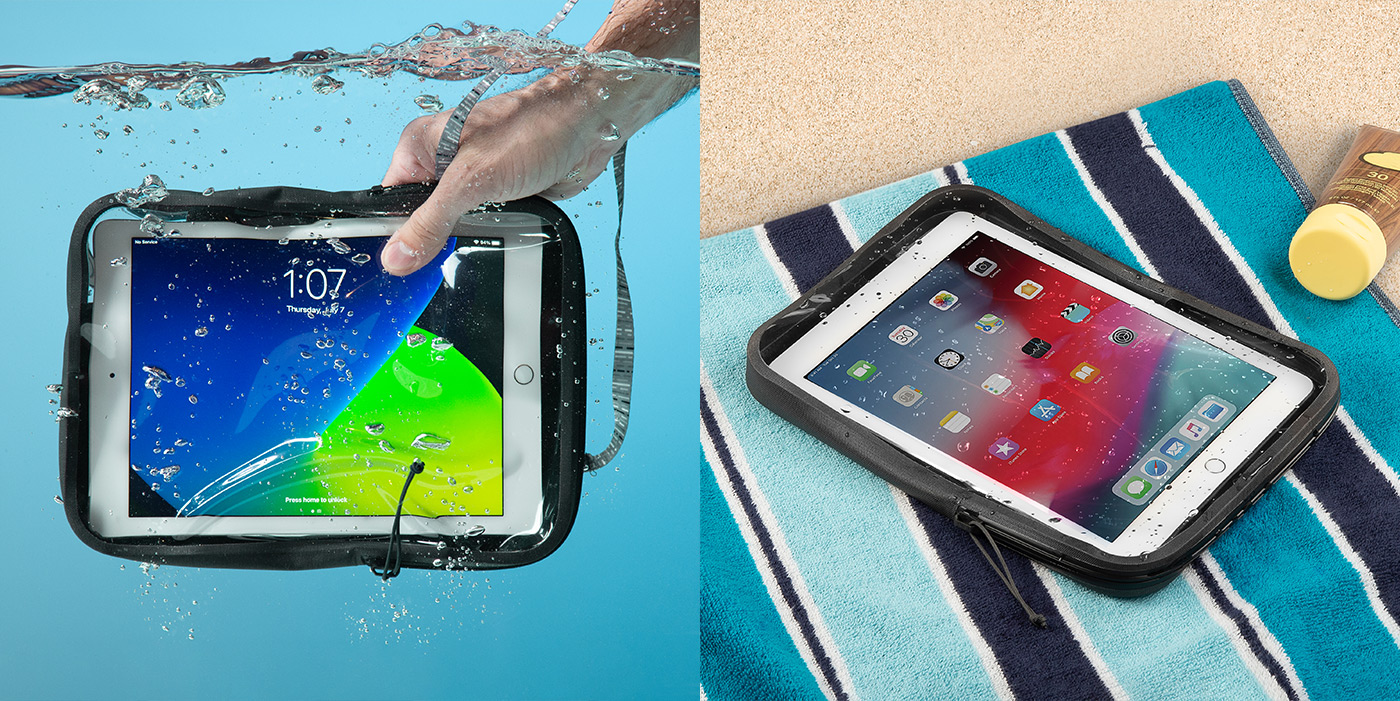 TRU® Zip Technology
The unique patented TRU Zip waterproof zipper developed by Nite Ize sets the RunOff bags apart from anything else on the market. The simple slide-to-secure zipper is easy to use and features a waterproof and dustproof seal that's snag-proof and creates a confident closure you can feel. Its toothless design is silent, glides smoothly, and offers maximum reliability whether it's left out in the rain or fully submerged.
Important Notes
For optimal performance, routinely lubricate your zipper with included TRU Zip High Performance Lubricant Wipes.
Correct use: To close TRU Zip zipper, move slider slowly and pull firmly to lock into zipper end-stop. If slider is not fully closed, zipper will not seal as intended.
To test the RunOff case for waterproofness, periodically submerge after sealing the TRU Zip zipper. Do not use if bubbles escape the bag during testing.
*The performance of the product depends in part on correct use and maintenance of the TRU Zip zipper. Appropriate use of the product and any damage incurred while using the product is the responsibility of the user.
Additional Features
Fits tablets up to 7.63" wide and 10.23" tall
IP67 Dustproof and Waterproof to withstands immersion in water 1M deep up to 30 min
Touchscreen compatible
Elastic band secures tablet to touch screen window allowing for seamless use
Durable TPU construction with RF-welded seams for ultimate reliability
Includes detachable, adjustable lanyard
Package Contents
Includes adjustable lanyard and a packet of TRU Zip High Performance Lubricant Wipes.
Share
View full details